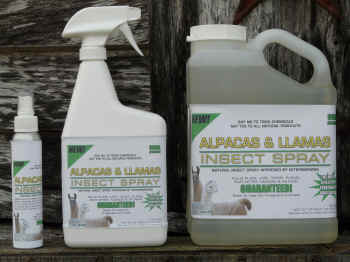 Comes In:

1 Quart Spray
1 Gallon Refill
Spritzer No
Longer Available
Click Here For
Article
"Natural Remedies for Ticks, Mites, Lice & Fungus"
In Vol. 1, Issue 3 Of
Alpacas Afield
On-line Magazine

Alpaca Llama Insect Spray
Can Be Used On ALL Animals
EXCEPT Exotic Birds
DO NOT USE On or Around Exotic Birds

Kills Ticks, Lice, Mange, Munge, Mites &
Promotes Healing Of The Skin.

Spray In The Ears To Kill Ticks, Mites, Fleas, Bacterial, Fungal & Yeast Infections. Periodically Repeat For Prevention

Use To Kill Lice Before & At Shearing Time.

Spray A Light Mist Over The Top Of The Animal's Back To Keep Flies & Mosquitoes Off After Shearing.

Spray Infected Areas Liberally To Eliminate Mange, Munge, Mites & LIce.

Protect The Animal's Eyes When Using On The Face.

Dip A Q-tip In The Solution & Paint On The Nose For Mite Problems Which Are Sometimes Mistaken For A Zinc Deficiency.

For Topical Use Only. Ready To Use. Do Not Dilute. Shake Well Before Use.